Founder/President
Dr. Shira Miller is the Founder and Medical Director of The Integrative Center for Health & Wellness in Sherman Oaks, CA. She was originally board certified in internal medicine and has been practicing integrative and anti-aging medicine since 2006, with a specialization in menopause and concierge medicine. Dr. Miller has worked as an Emergency Medical Technician (EMT) for an ambulance service and the UCSD Hyperbaric Chamber, as a clinical research consultant at Children's Hospital Oakland Research Institute, as an urgent care physician at the VA Oakland Outpatient Clinic, and as an integrative physician at San Francisco Preventive Medical Group, Cenegenics, and the Hall Center. Dr. Miller earned a double major at the University of California, San Diego (UCSD): a B.A. in Philosophy and a B.S. in Biochemistry and Cell Biology; and also played on the UCSD Women's Waterpolo Team, and the UCSD Women's Ultimate Frisbee Team. She then went on to earn an M.S. in Biological and Physical Sciences from Touro College, NY, and her M.D. from the Technion – Israel Institute of Technology, in Haifa, Israel. She completed her residency in Internal Medicine/Primary Care, at Highland Hospital, a county hospital in Oakland, CA.
Dr. Miller has been a supporter of Americans for Free Choice in Medicine since 1995, and of the Association of American Physicians and Surgeons since 2006. Since 2005, she has been a member of the American College for Advancement in Medicine (ACAM), and was on its Board of Directors from 2009-2013. Also, in 2009, she was Chairperson of ACAM's Student and Resident Program.
Dr. Miller was honored with the 2017 "Top Doctor in Concierge Medicine" award.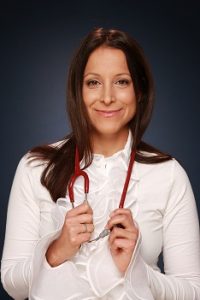 "When I adopted my first baby, a canine, I came across the E-book titled, "How to Protect Your Dog from a Vaccine Junkie" by veterinarian Dr. Paula Terifaj. What I learned back then, in 2009, about the overuse of vaccines in dogs, triggered the depth of my research about vaccines for my human babies." -Dr. Miller