1. WHAT IS VARICELLA?
Varicella is a viral infection.
Varicella symptoms include fever, itching, and a skin rash throughout the body. Symptoms typically resolve after a few days.1
More than 96% of new varicella infections are benign and not reported to public health departments.2
Before the varicella mass vaccination program was introduced, about 90% of the population contracted varicella and obtained lifetime immunity by age 15.3
In rare situations, varicella can be fatal. Most fatal cases of varicella occur in adults age 20 or older.4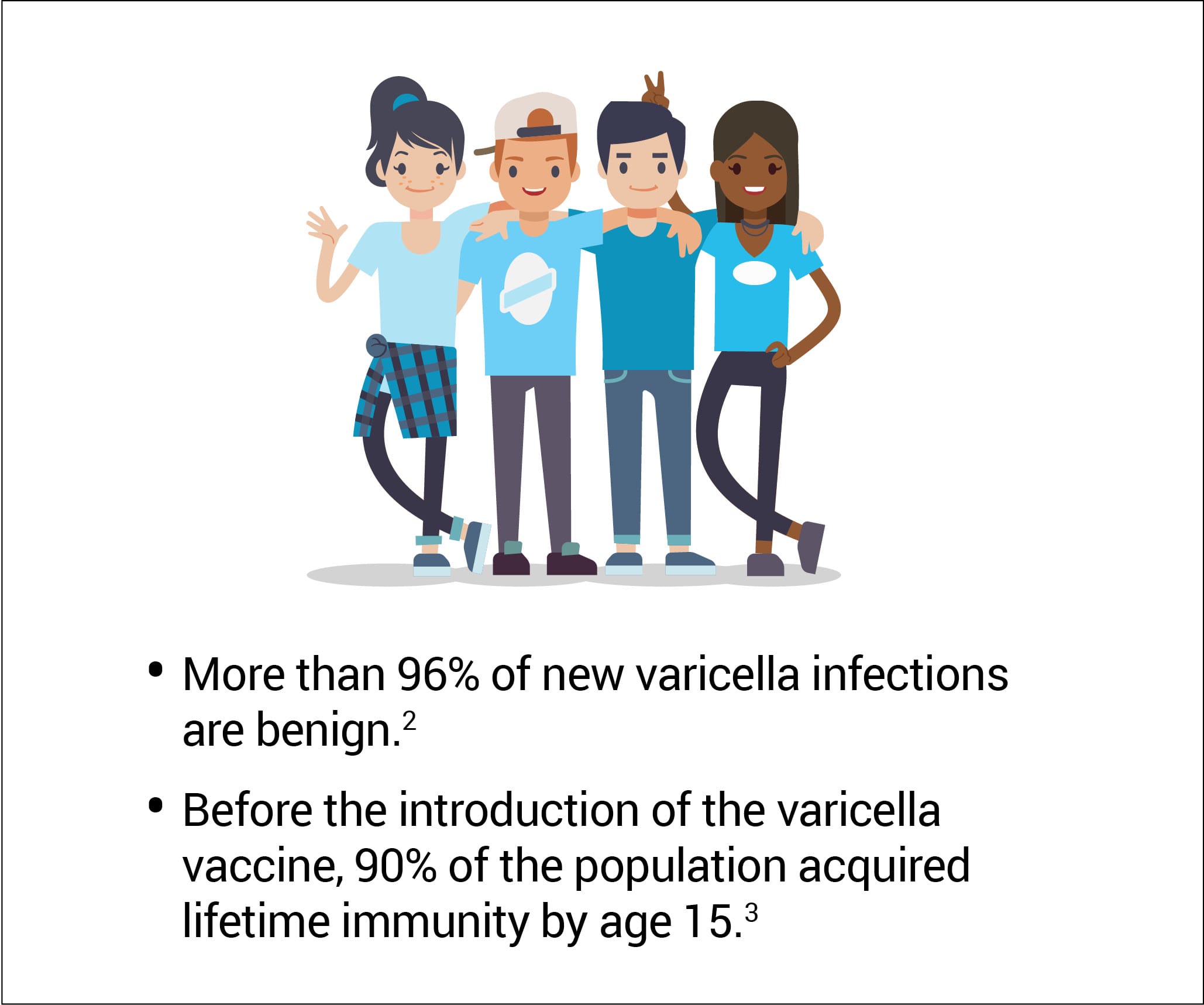 2. WHAT ARE THE RISKS?
About 3 in 1,000 or 0.3% of varicella cases are hospitalized.5 Fatal cases of varicella are rare in the United States. Before the introduction of the varicella vaccination program, 1 in 40,000 or 0.003% of varicella cases were fatal (Fig. 1).5
For some people, varicella virus can remain in their body after they recover from chicken pox, and the virus can reactivate later in life and cause shingles. However, severe complications or death from shingles is very rare.6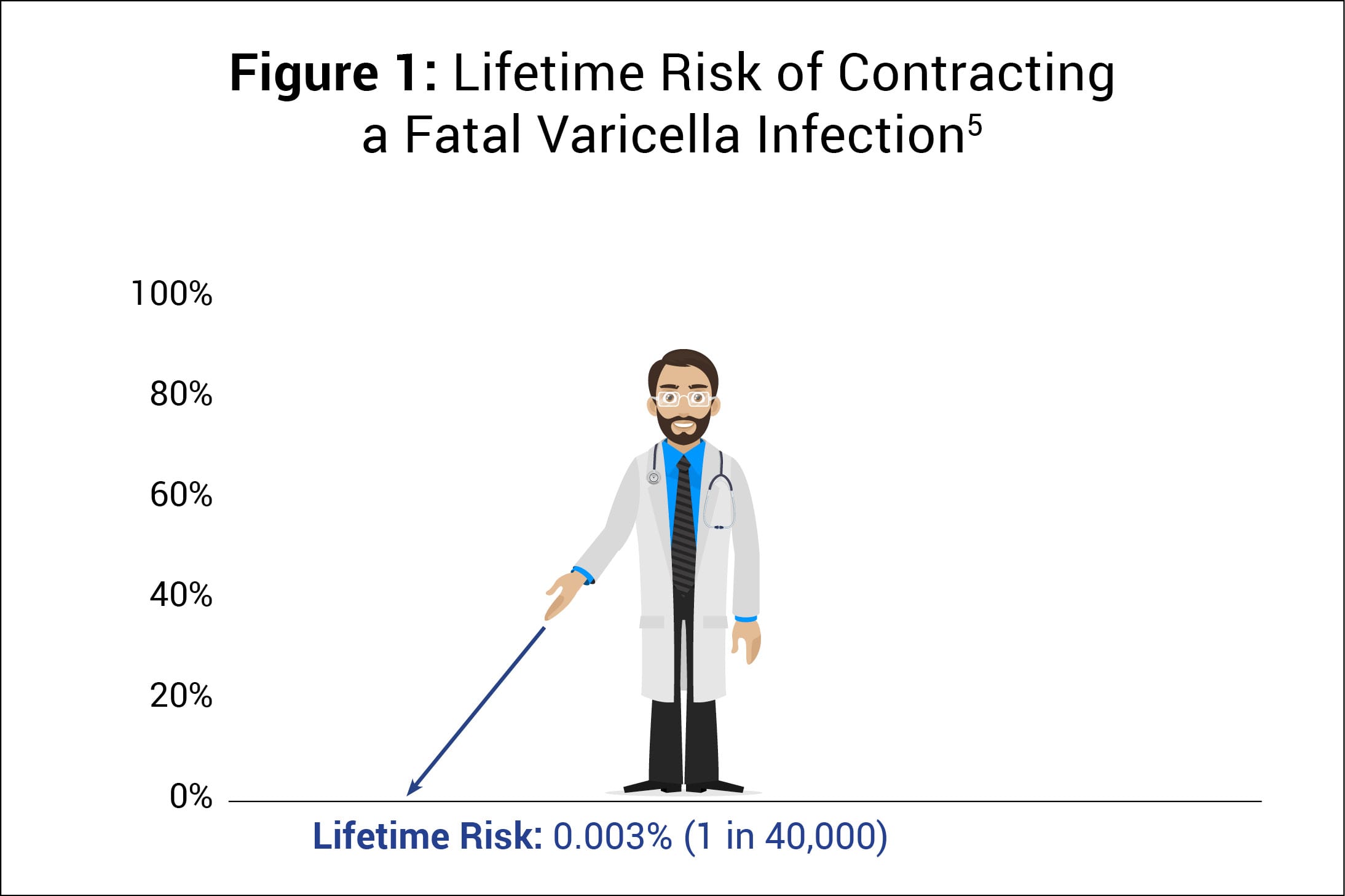 3. WHAT TREATMENTS ARE AVAILABLE?
Because varicella resolves on its own in almost all cases, usually only rest and hydration are necessary. Immune globulin is also available for immunocompromised patients who are exposed to chicken pox, such as those on chemotherapy.3


4. WHAT ABOUT THE VARICELLA VACCINE?
The varicella vaccine was introduced in the U.S. in 1995. It has significantly reduced the incidence of reported (i.e., noticeable) cases of varicella infections; however, the Centers for Disease Control and Prevention (CDC) states, "It is not known how long a vaccinated person is protected against varicella," and, "Several studies have shown that people vaccinated against varicella had antibodies for at least 10 to 20 years after vaccination. But, these studies were done before the vaccine was widely used and when infection with wild-type varicella was still very common."7 In other words, it's possible that the antibody counts observed in vaccinated populations were affected by exposure to wild-type varicella.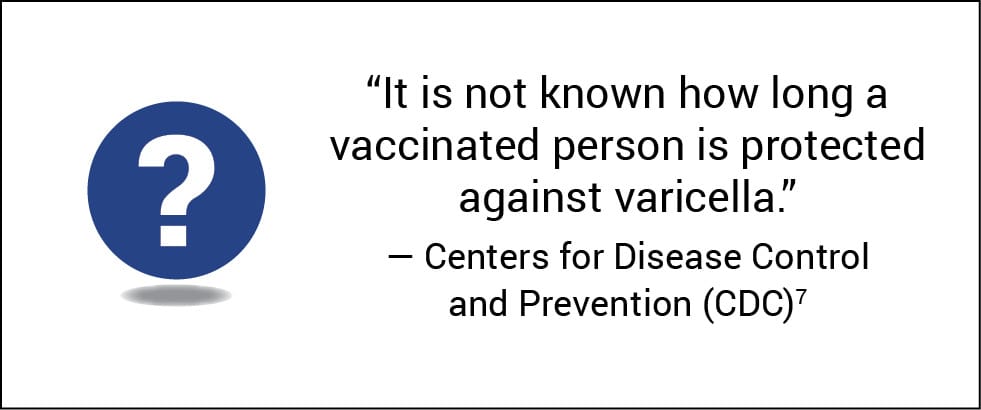 The manufacturer's package insert contains information about vaccine ingredients, adverse reactions, and vaccine evaluations. For example, "Varivax Refrigerated has not been evaluated for its carcinogenic or mutagenic potential, or its potential to impair fertility."8 Furthermore, the risk of permanent injury or death from the varicella vaccine has not been proven to be less than that of varicella (Fig. 2).9

Figure 2: This graph shows the varicella mortality rate before the vaccine was introduced and compares it to the leading causes of death in children under age 10 today. Hence, in the pre-vaccine era, the varicella mortality rate per 100,000 was 0.1 for children under age 10. In 2015, the mortality rate per 100,000 for homicide was 1.3, followed by cancer (2.0), SIDS (3.9), unintentional injury (8.2), and congenital anomalies (13.6). The rate of death or permanent injury from the varicella vaccine is unknown because the research studies available are not able to measure it with sufficient accuracy.
2023 Sep; updated 2023 Nov.