Educational resources for parents and healthcare providers unveiled in recognition of National Epilepsy Awareness Month in November
NEWPORT BEACH, CALIF. (PRWEB) NOVEMBER 12, 2019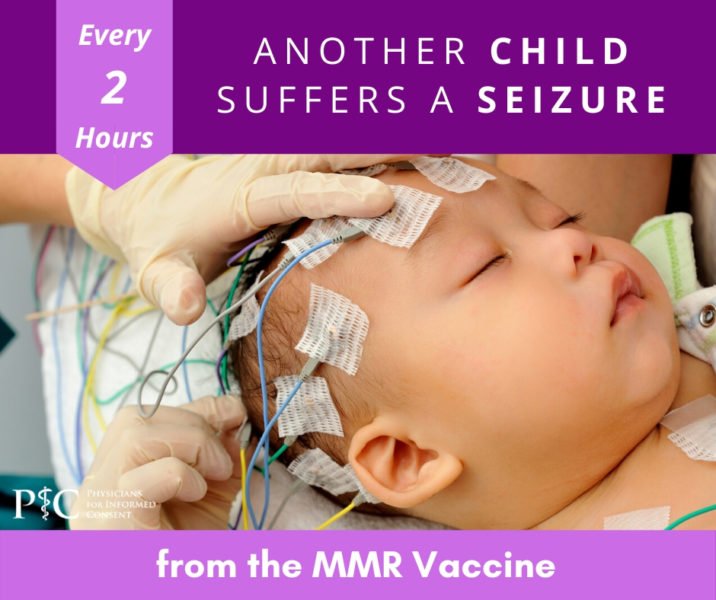 Physicians for Informed Consent (PIC), an educational nonprofit organization focused on science and statistics, recognizes National Epilepsy Awareness Month (NEAM), November 2019, by providing information to parents about the prevalence of seizures and subsequent epilepsy resulting from the measles, mumps, and rubella (MMR) vaccine.
Seizures from the MMR vaccine occur in about 1 in 640 children within two weeks of receiving the first dose of the MMR vaccine. This amounts to approximately 5,700 cases of MMR-vaccine seizures annually in the U.S., and a significant portion of MMR-vaccine seizures cause permanent harm, as 5% of febrile seizures result in epilepsy. Consequently, about 300 MMR-vaccine seizures (5% of 5,700) lead to epilepsy annually.
More information on these findings, including details on the supporting studies as well as educational resources, can be found at physiciansforinformedconsent.org/mmr-seizures.
"There is a five-fold higher risk of seizures from the MMR vaccine than from measles infection, and thus far, the MMR vaccine has not been proven to be safer than measles," said Dr. Shira Miller, PIC president and founder. "It is imperative that parents and healthcare providers know the data, as a significant portion of febrile seizure cases result in epilepsy, a debilitating and life-threatening chronic condition. Families must objectively weigh the risks of measles vs. the risks of the MMR vaccine, to make informed, evidence-based vaccination decisions."
National Epilepsy Awareness Month, organized by the Epilepsy Foundation, is intended to build awareness, educate about seizure first aid, and encourage others to take action.
About Physicians for Informed Consent
Physicians for Informed Consent is a 501(c)(3) educational nonprofit organization focused on science and statistics. PIC delivers data on infectious diseases and vaccines, and unites doctors, scientists, healthcare professionals, attorneys, and families who support voluntary vaccination. In addition, the PIC Coalition for Informed Consent consists of nearly 200 U.S. and international organizations. To learn more or to become a member, please visit physiciansforinformedconsent.org.
Source: https://www.prweb.com/releases/physicians_for_informed_consent_educates_parents_about_the_risk_of_seizures_and_epilepsy_from_the_mmr_vaccine/prweb16713213.htm