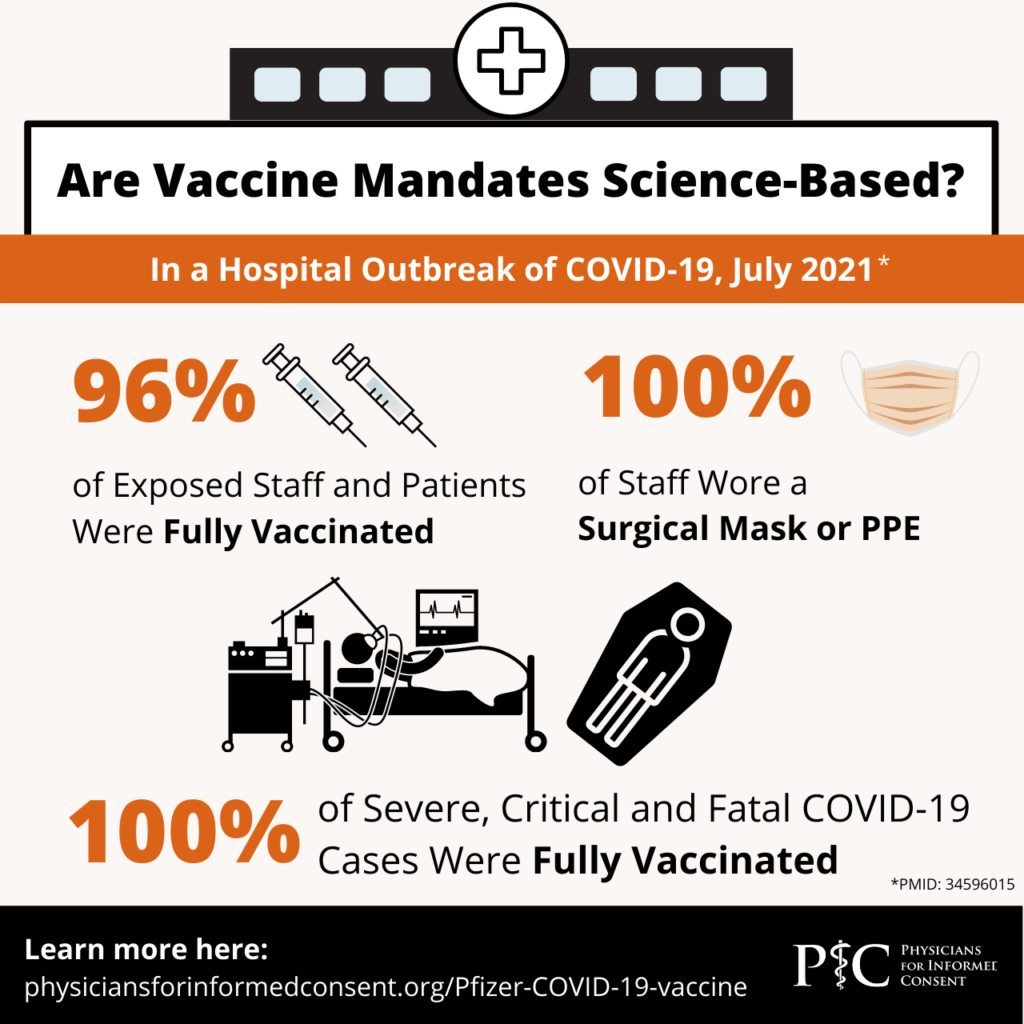 Educational document highlights risk of severe side effects in children 5 to 11 years of age, and provides data on COVID-19 transmission and the significant decline of vaccine efficacy in people aged 16 or older.
NEWPORT BEACH, CALIF. (PRWeb) – DEC. 22, 2021
Physicians for Informed Consent (PIC), an educational nonprofit organization focused on science and statistics, has published an update of its Pfizer COVID-19 Vaccine Risk Statement (VRS), which includes important questions and answers about the vaccine. The Pfizer COVID-19 vaccine received expanded emergency use authorization (EUA) for children 5 to 11 years of age; however, the vaccine has not been approved or licensed for children 15 years or younger.
The Pfizer COVID-19 VRS highlights essential data from the U.S. Food and Drug Administration (FDA), Centers for Disease Control and Prevention (CDC), and Pfizer clinical trial to help patients and caregivers engage in informed decision-making. Some key points include the following:
The clinical trial found there were zero cases of severe COVID-19 in children of any age who did not receive the vaccine. In contrast, the trial found that the vaccine causes severe (grade 3) and grade 4 systemic reactions in children.
The clinical trial indicates that vaccine efficacy declines significantly in less than six months. Although a booster dose of the vaccine is authorized for individuals 16 years of age or older, the clinical trial states that efficacy was not evaluated for Phase 3 BNT162b2 booster group participants. Instead, vaccine efficacy was inferred based on antibody levels observed in only about 300 vaccinated subjects over a one-month time period.
The clinical trial provided no evidence that the vaccine prevents asymptomatic infection or transmission of SARS-CoV-2 or COVID-19. In addition, recent studies have observed that a significant proportion of severe, critical, and fatal cases of COVID-19 occurred in vaccinated individuals.
"PIC was founded in 2015 to safeguard informed consent in vaccination," said Dr. Shira Miller, PIC founder and president. "Today, more people than ever before are interested in analyzing infectious disease data and researching vaccines. We are pleased to provide a concise, reader-friendly document that emphasizes important statistics that further assist the public to engage in informed decision-making."
Earlier this year, PIC introduced its "Do your research" education initiative for COVID-19 vaccines, providing scientific information that reflects the necessity for choice — rather than coercion — in vaccine administration. The newly released VRS helps expand public knowledge. Used together with PIC's COVID-19 Disease Information Statement (DIS), which discusses effects of COVID-19 in different age groups, the document serves to further aid readers in comparing the risk of COVID-19 infection versus the risk of a severe side effect from a COVID-19 vaccine.
To download your copy of the VRS "Pfizer COVID-19 Vaccine: Short-Term Efficacy & Safety Data," visit physiciansforinformedconsent.org/COVID-19-vaccines.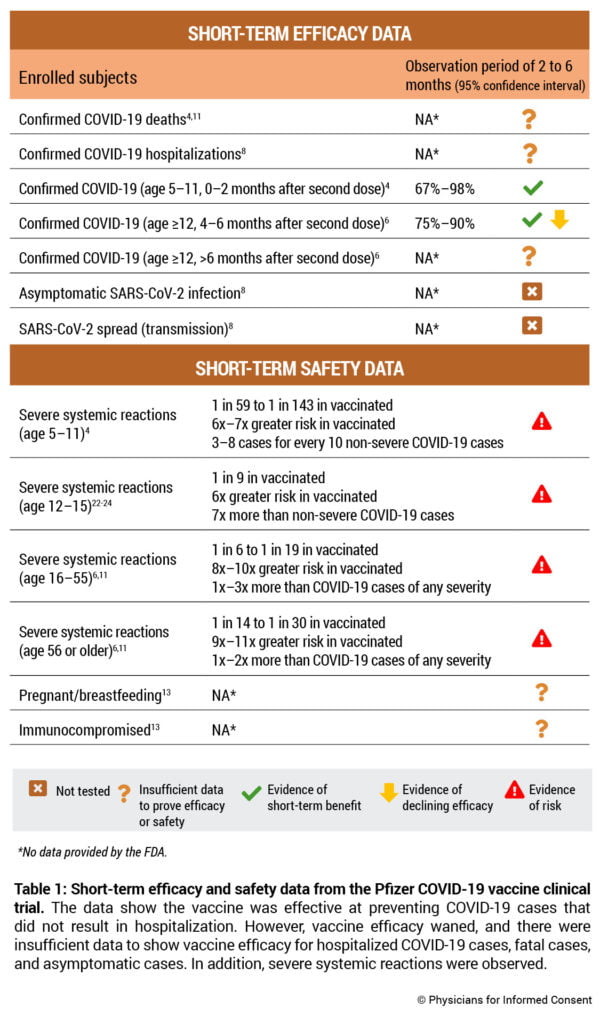 VIEW the press release on PRWeb.
SHARE the press release on Facebook.
SHARE the press release on Twitter.
SHARE the press release on Instagram.
SHARE the press release on LinkedIn.
---
About Physicians for Informed Consent
Physicians for Informed Consent is a 501(c)(3) educational nonprofit organization focused on science and statistics. PIC delivers data on infectious diseases and vaccines, and unites doctors, scientists, healthcare professionals, attorneys, and families who support voluntary vaccination. In addition, the PIC Coalition for Informed Consent consists of more than 300 U.S. and international organizations.