Nearly 50% of Vaccinated U.S. Schoolchildren Can Become Infected With and Spread Measles
NEWPORT BEACH, CALIF. (PRWEB) AUGUST 23, 2019
Physicians for Informed Consent (PIC), an educational nonprofit organization focused on science and statistics, has announced the release of an important educational document on waning immunity and the measles, mumps, and rubella (MMR) vaccine. Designed to help doctors and the public evaluate the effectiveness of the MMR vaccine, the document answers a common question parents ask when carefully considering the MMR vaccine for their children: "For how long will the MMR vaccine protect my child?"
In 2007, the Centers for Disease Control and Prevention (CDC) conducted a study on waning immunity after two doses of the MMR vaccine.[1] The results, published in Archives of Pediatrics and Adolescent Medicine, show that even after being previously vaccinated twice for measles, about 35% of vaccinated 7-year-olds and 60% of vaccinated 15-year-olds are susceptible to subclinical infection with measles virus. And by age 24–26, a projected 33% of vaccinated adults are susceptible to clinical infection. Consequently, nearly 50% of schoolchildren and more than 60% of adults fully vaccinated with the MMR vaccine can still be infected with measles virus and spread it to others, even with mild or no symptoms of their own.[1-4]
The CDC conducted another study in 2016, published in The Journal of Infectious Diseases, which concludes that a third dose (booster shot) of the MMR vaccine is short-lived, lasting only one year. The authors state: "MMR3 [a third dose of MMR] is unlikely to solve the problem of waning immunity in the United States… We did not find compelling data to support a routine third dose of MMR vaccine."[5]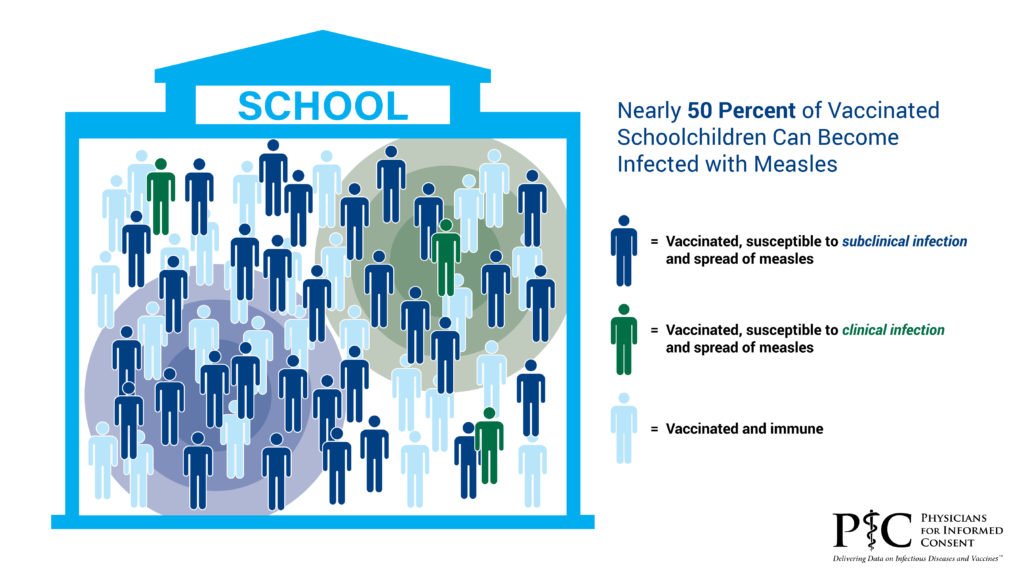 In 1963, before the measles vaccine was introduced in the U.S., almost everyone had measles by age 15, which provided lifelong immunity. And measles was a generally benign infection, with 99.99% of people experiencing a full recovery.[6] "Waning MMR vaccine immunity is an important factor for physicians and parents to consider when evaluating the risks of measles infection vs. the risks and limitations of the MMR vaccine," said Dr. Shira Miller, PIC founder and president. "Subsequently, legislation which mandates MMR vaccination or restricts exemptions to MMR vaccination will not eliminate measles outbreaks."
"Subsequently, legislation which mandates MMR vaccination or restricts exemptions to MMR vaccination will not eliminate measles outbreaks."
To read the document, "Waning Immunity and the MMR Vaccine: Nearly 50 Percent of Vaccinated Schoolchildren Can Become Infected with Measles," please visit physiciansforinformedconsent.org/mmr-waning-immunity.
About Physicians for Informed Consent
Physicians for Informed Consent is a 501(c)(3) educational nonprofit organization focused on science and statistics. PIC delivers data on infectious diseases and vaccines, and unites doctors, scientists, healthcare professionals, attorneys, and families who support voluntary vaccination. In addition, the PIC Coalition for Informed Consent consists of nearly 200 U.S. and international organizations. To learn more or to become a member, please visit physiciansforinformedconsent.org.
1.    https://www.ncbi.nlm.nih.gov/pubmed/17339511
2.    https://www.ncbi.nlm.nih.gov/pubmed/2230231
3.    https://www.ncbi.nlm.nih.gov/pubmed/2815970
4.    https://www.ncbi.nlm.nih.gov/pubmed/29921344
5.    https://www.ncbi.nlm.nih.gov/pubmed/26597262
6.    https://physiciansforinformedconsent.org/measles/dis/